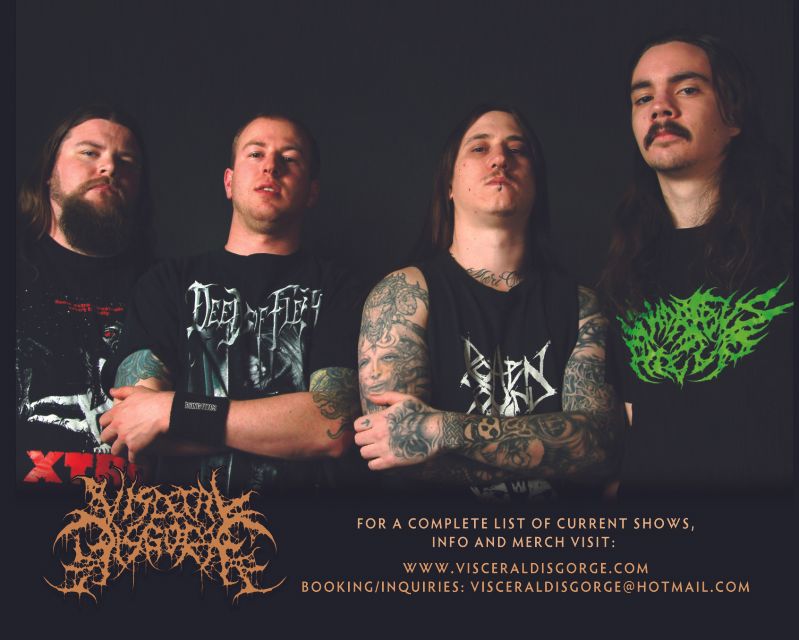 From the violence-ridden bowels of Baltimore emerges VISCERAL DISGORGE vomiting forth their debut album INGESTING PUTRIDITY. Serving up 9 bloody cuts that will captivate the enthusiasts of brutality everywhere! Featuring artwork by the legendary Toshihiro Egawa. Be prepared for this deadly release on Amputated Vein Records to hit stores June 6th, 2011. Make sure to catch them live this summer at 'America's biggest metal party of the year' the Maryland Deathfest, the Brutality Reigns Supreme fest or this fall at the New Jersey Deathfest, along with extensive giging to support the album. For a complete list of current shows, info and merch visit:
www
.visceraldisgorge.com
Visceral Disgorge was originally formed in early 2007, spawning from the remains of a former death metal band. After many many setbacks due to internal issues they are back. In late 2009 Visceral Disgorge recorded a single demo track that got the attention that resulted in signing a record deal with Japanese Death Metal label Amputated Vein Records for the worldwide release of their debut album.Visceral Disgorge then quickly built local, national and international hype. With just the release of a single demo track the band has managed to form an impressive fan base.
WE ARE CURRENTLY BOOKING SHOWS FOR UPCOMING MONTHS IF YOU ARE INTERESTED IN BOOKING US PLEASE CONTACT US AT:
visceraldisgorge@hotmail.com